The 3rd Annual StartOut Equity Summit
The 3rd Annual StartOut Equity Summit
Thursday, September 15, 2022 (11:00 AM - 4:00 PM) (EDT)
Description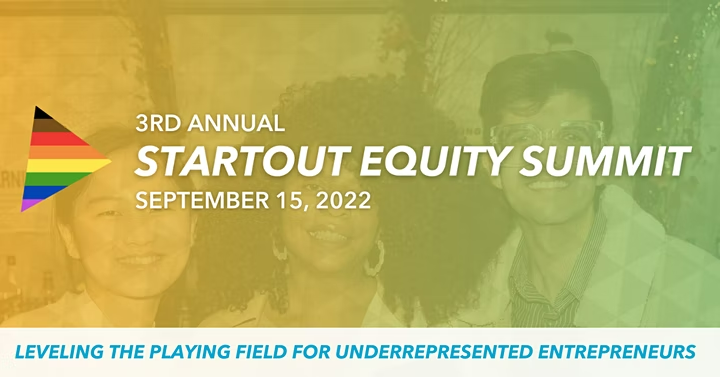 StartOut is excited to present the 3rd Annual StartOut Equity Summit, a virtual event that will focus on ways for underrepresented entrepreneurs to thrive across geographies and industries regardless of their background.
The Summit is envisioned as an environment for dialogue and action where every participant is prepared to share insights, reflect on experiences, and be prepared to pose new questions and reframe old answers.
This Summit aspires to be dynamic, exploratory, and honest. We work to understand lived experiences, while shifting the conversations forward towards actionable initiatives.
The Equity Summit's programming will begin at 8:00am PDT / 11:00am EDT and will end by 2:00pm PDT / 5:00pm EDT, with networking opportunities immediately following.

The 3rd Annual StartOut Equity summit will take place virtually on the Accelevents platform.
Registrants will receive their unique links to join within 24-hours of the event. You'll have the opportunity to create a profile in advance of the event, craft your summit schedule, and there will be opportunities to network and meet with one another within the event platform. Email info@startout.org with any questions.

8:00 AM PT / 11:00 AM ET
8:15 AM PT / 11:15 AM ET
Keynote Fireside Presentation
9:00 AM PT / 12:00 PM ET - SESSIONS
Invisible Diversity within the Startup Community
Alternative Funding Strategies for the Early Stages
Why Climate Change is an LGBTQ+ Issue
Tech Stacks Building Equitable Pathways to Entrepreneurship
9:45 AM PT / 12:45 PM ET
10:00 AM PT / 1:00 PM ET - SESSIONS
The Equity Toolkit: Understanding Inclusive Decision-Making Methodologies
Why Your Portfolio Needs Diverse Companies
Unconscious Bias in Venture Capital
What Gen Z Really Thinks and Why You Should Care
10:45 AM PT / 1:45 PM ET
11:30 AM PT / 2:30 PM ET - SESSIONS
The "Hustle" is Dying: Create a Vibrant Culture with Belonging
The Future of Health Tech
Impact of Immigrant Entrepreneurs
Gender Diversity in Web3: Breaking Stereotypes in Crypto
12:15 PM PT / 3:15pm ET
12:30 PM PT / 3:30 PM ET - SESSIONS
Overcoming Fear in Economic Downturn
Driving Innovation with Inclusive Leadership
Building Self-Care into the Business Model
Think Pink: Finding Your Funding Match
1:15 PM PT / 4:15 PM ET
Closing Statements from StartOut
1:30 PM PT / 4:30 PM ET
Virtual Networking Afterparty
Sign Ups for In-Person After Party in Select Cities
Images
Event Contact
Tyler Prescott
Thursday, September 15, 2022 (11:00 AM - 4:00 PM) (EDT)